PRODUCT LINES
Spiral welded steel pipes and fittings are the main products of IPI. Its mills is capable of producing spiral welded steel pipes from 100 mmØ to 3,600 mmØ with wall thickness from 3.4 mm to 25 mm and lengths of up to 50 meters.
USES OF IPI PIPES:
WATER LINES
Steel Aqueduct

Distribution and Transmission Lines (Coated and Lined)

Fabricated Fittings and Specials

Irrigation Systems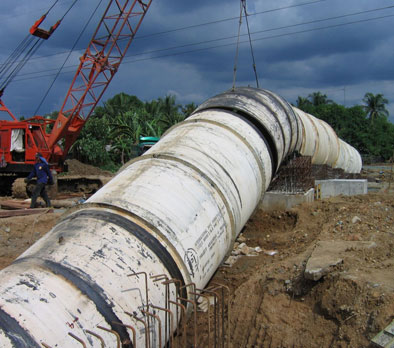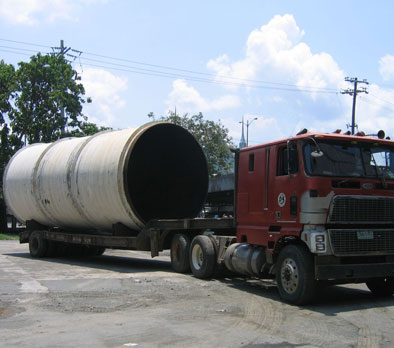 3.3M dia.Steel Pipe Aqueduct Construction at MWSS Angat Water Utilization & Improvement -
55Km. AQ-6 By-Pass Line Project (2005)
Cement Lined and Cement Coated Steel Pipes
for LWUA projects ranging 900mm dia. and below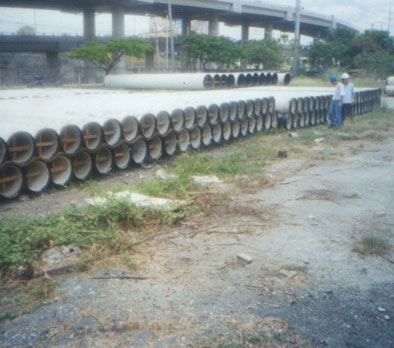 Cement Lined and Coal Tar Enamel Coated Steel Pipe
for Water Mains

Cement Lined and Coal Tar Enamel Coated Steel Pipe for MWCI's South East Transmission Mains,
Rodriguez WTP Transmission Main Line and Rizal Water System Projects (2009)
OIL / GAS / INDUSTRIAL
Line Pipe for Petroleum Products

Weight Coated Submarine Line Pipe, Structural Pipe for Off Shore Drill Rigs

Slurry Piles for Mine Tailings

Electrical Transmission Poles

Dredge Pipes and Pontoons

Sign Posts, Lighting Poles

Cooling Water System for Ref and Air Conditioning Systems

Compressed Air and Air Ducts

Drainage Pipes

Smoke Stacks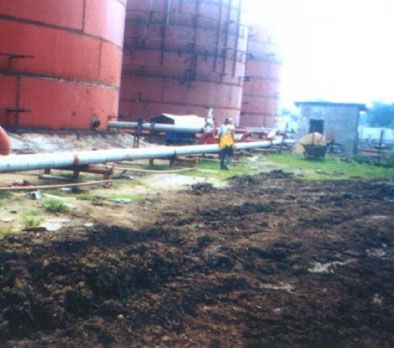 Jetty Petroleum Fuel Receiving Line Oil Depot
at Bataan Depot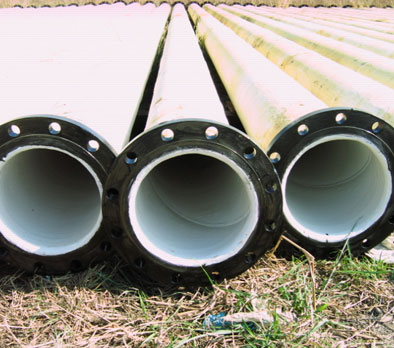 Enamel Coated & Epoxy Lined Spiral Welded Steel
Pipe for Oil & Gas Submarine Piping Pilipinas Shell Project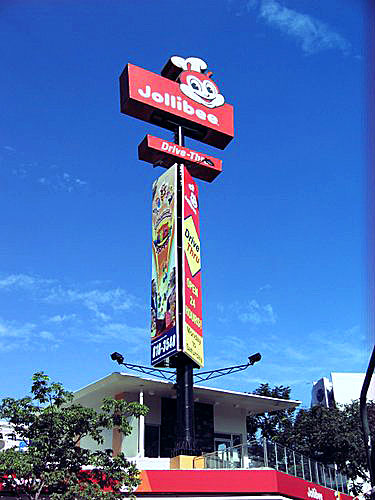 Pylon Post for Jollibee Foods Corporation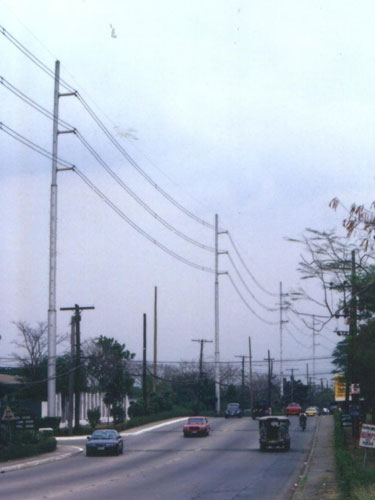 Meralco Transmission Pole
PILING / PORT / STRUCTURAL
Foundation Piles for Buildings, Bridges and Piers

Well Casings and Slotted Pipes (Alternative to Steel Screens)

Columns, Beams, Trusses and Purlins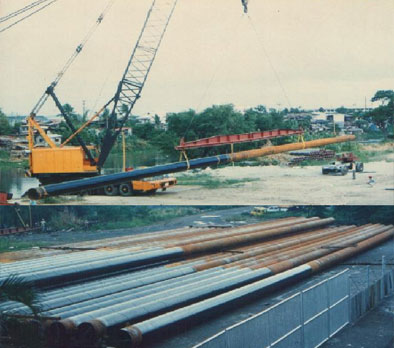 Steel Pipe Piles with Polyurethane Coating for Pier 5 Project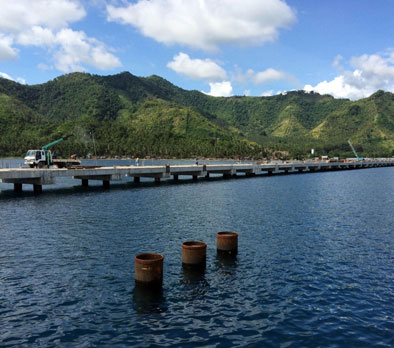 Pier & Jetty Structure for SMC Malita Global Coal Fired Power
Plant Project at Brgy. Culaman, Malita, Davao Del Sur (2014)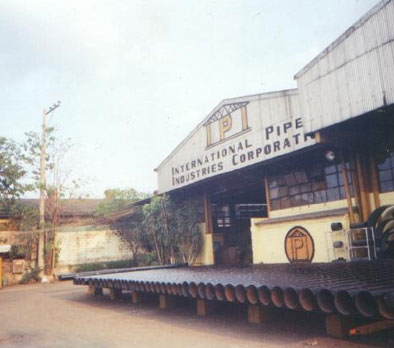 Black Iron (B.I.) Pipes for Well Casing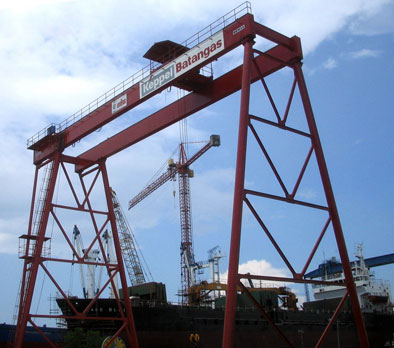 Structural Columns for Keppel Gantry Crane project,
Batangas (2007)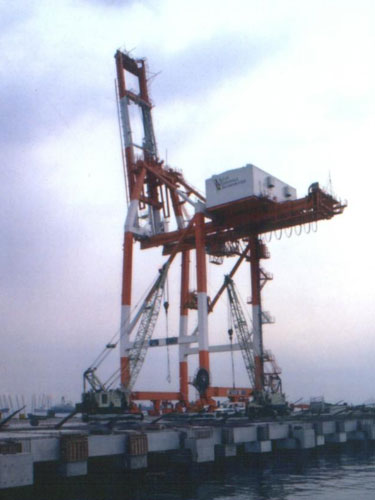 Foundation Piles for Manila South Harbor Project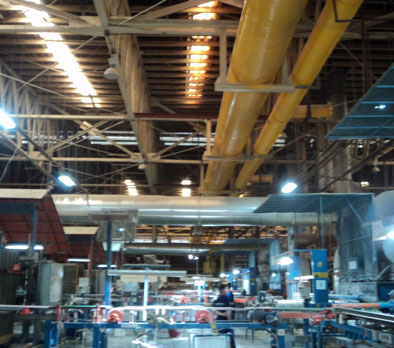 Gasifier Pipes for Mariwasa Siam Ceramics at Sto. Tomas,
Batangas (2011)
HYDRO POWER PIPING
Penstock (coated/lined)
Conductor casing
Birfurcation/Trifurcation
Conveyance Pipe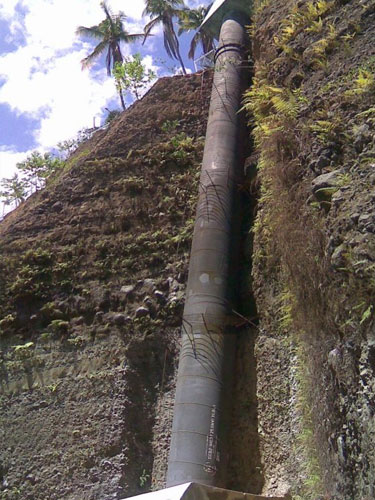 42.5MW Sibulan Hydro Electric Power
at Sta. Cruz, Davao Del Sur (2007).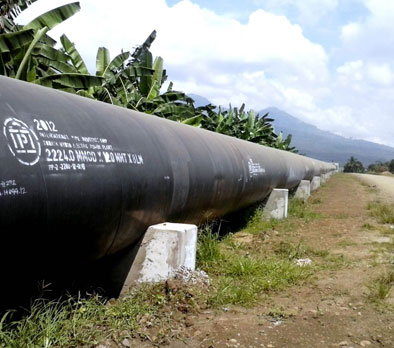 HEDCOR's Tudaya 2 Hydro Electric Power Plant Project
at Davao Del Sur (2012)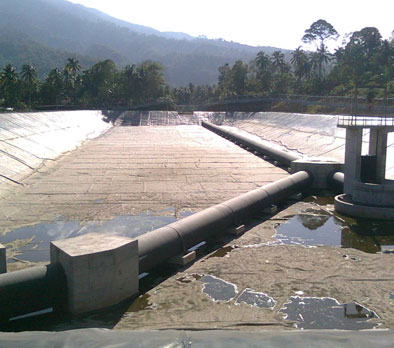 Head Pond Conveyance Pipe at HEDCOR's
Sibulan Hydro Electric Power Plant
in Sta. Cruz, Davao Del Sur (2007)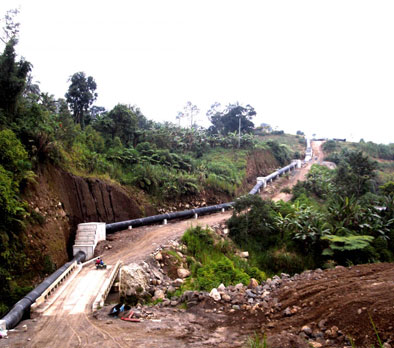 HEDCOR's Tudaya 1 Hydro Electric Power Plant
at Davao del Sur (2012)
ADVANTAGES OF SPIRAL-WELDED STEEL PIPE
WIDE RANGE IN DIAMETER AND WALL THICKNESS
We manufacture spiral welded steel pipes with diameters ranging between 100 mm – 3,600 mm and in standard thicknesses between 3.4 mm – 25 mm. This means savings on the part of the customer as the customer can select the right size and wall thickness to meet exact design requirements.
INFINITE LENGTHS
IPI can manufacture pipes in any desired length; as long as the pipe length is capable of being transported from our manufacturing plant to client site. However, fewer joints required in pipe lines will result to lower handling, laying and jointing costs.
PERFECT ROUNDNESS AND STRAIGHTNESS
The spiral method of forming and manufacturing IPI pipes, means roundness and a straightness of pipe formed, compared to other means of production. This is due to the regularity inherent in the spiral forming of the pipe, and the fact that shrinkage of the welding is uniformly distributed throughout the length of the pipe. Such perfect concentricity makes it easier to weld two pipes together, which proves to be of great advantage particularly in pipe lines and piling applications.
GREATER STRENGTH
The double welded seam has the effect of a spiral band around the IPI pipe, which significantly increases its strength.
EVEN THICKNESS
The pipes are manufactured from strip with minimum tolerances which produces a thickness that is perfectly uniform over the entire length of the pipe.
THINNER WALL
The double welding spiral process makes it possible to manufacture thin-walled large diameter pipes used for pipe lines, piling requirements, or structural projects. This means savings on raw material steel thereby making the pipes cost effective.
GREATER RESISTANCE TO PRESSURES
The IPI spiral-shaped double-welded seam pipe has as an effect of adding greater structural strength which can withstand 25% higher pressures than longitudinally welded pipes of equivalent wall thickness.
TEST AND INSPECTION
All IPI pipes undergo several quality control tests such as: material control tests, hydrostatic pressure tests, and inspection by ring gauges and X-RAY tests. Aside from the standard quality testing foregoing routine procedures, IPI statistically selected sample pipes are also subject to destructive testing by third party quality inspectors to validate quality of IPI manufactured pipes.
FLEXIBILITY
The spirally welded IPI pipes are easy to bend compared to seamless or longitudinally welded tubes of equal diameter, wall thickness and basic material quality.
GOOD WELDABILITY
The good welding properties of IPI raw material ensures smooth manufacturing process. The weldability of IPI pipes makes it easy to use IPI pipes at construction sites.